19octAll DayCE-Credits.ca Webcast - October 19thZoom On-Line Webinar
Event Details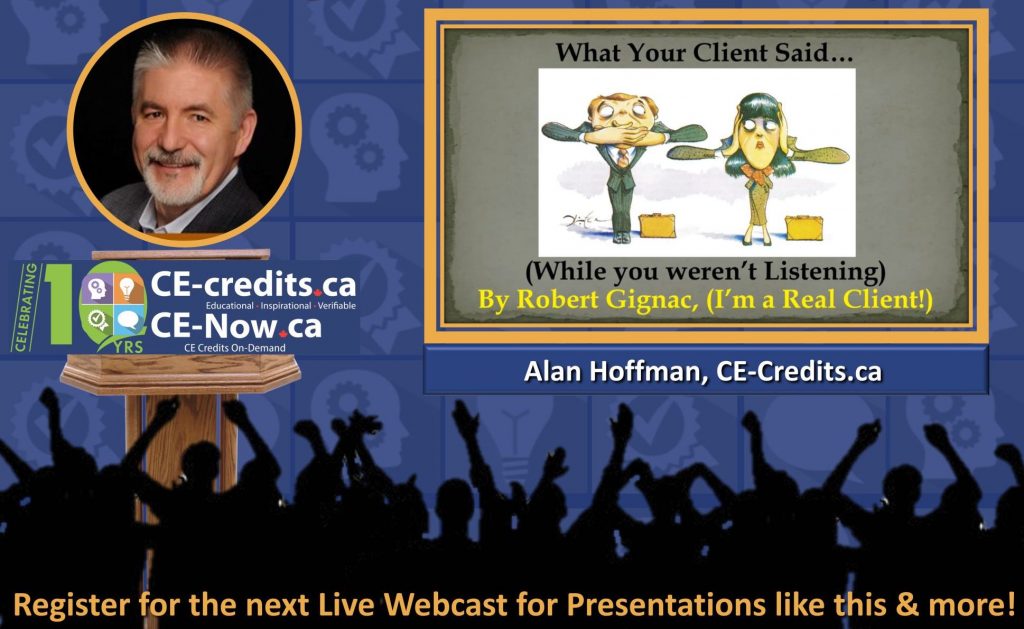 Robert Gignac will be speaking at the October 19th 2022 Financial Planners Forum Webcast sponsored by CE-Credits.ca. His topic will be "What Your Client Said (While You Weren't Listening…). Details available here: CE-Credits
Session Synopsis:
A decade ago we were watched a series of TV commercials featuring a Verizon Cellular technician wandering across America asking the question "Can you hear me now?" Fast forward to 2020 and your clients are seeking true financial and insurance advice from you and sometimes having to resort to asking "Can you hear me now?"
Clear and effective communication is at the core of every successful client/financial professional relationship. Unfortunately, one of the leading causes of client dissatisfaction and eventual financial services provider breakup can be directly attributed to ineffective or improperly structured communication.
Important? Absolutely! Your existing clients and prospective clients have no shortage of financial professional and financial services alternatives to choose from. Keeping them happy and engaged can be a difficult task in today's hyper-competitive environment – assuming you are doing everything well. If financial professionals drop the ball on something as basic as clear and consistent client communication, they will be fighting an uphill battle to retain their clients.
Understanding the role that jargon plays in hindering communication is critical. Why do we create material with a Flesch-Kincaid readability score of 30-40 (college graduate) when the average Canadian reads at 60-70 (7th-8th grade)?
Robert will offer concrete examples of what clients are struggling with today (and they have no idea how to talk to you about…) and how financial professionals can start to bridge the communication gap with your most valuable asset. Robert has over 25 years experience as a client of the Canadian financial services industry and via his Canadian bestseller "Rich is a State of Mind" he has spoken with clients just like yours from coast to coast. One of their biggest concerns in 2022 – "I don't think you're listening to me".
The four key areas are:
1)           Do You Play Catch (or Pitch)? – Communication moves back and forth and requires two (or more) participants. If you're going to play the game you had better know the rules (oh, and your parents were right all along… sorry!)
2)           Filling the Funnel – You have to fill your funnel with better questions in order to move communication forward (or backward). The better questions you ask, the better answers you'll receive – but only when you learn to pay attention to what's coming next…
3)           Can You Hear Me Now? – There are two kinds of listening (three if we're being really technical…), which one you choose to use will determine how successful you are. A discussion of the "five second rule" will help reinforce point.
4)           The Golden Rule of Communication – Surprise! It's not "They who have the gold make the rules". It's this: Sense – Evaluate – Respond – Repeat. Simple – Yes. Easy – No.
Get ready to truly communicate with your clients – because if you're not willing to communicate, prepare to watch your clients take their assets and seek out someone who will.
Location

Zoom On-Line Webinar
Organizer
CE-Credits.caalan@ce-credits.ca