In these dynamic and changing times, author Robert Gignac takes you back to the basic fundamental principals found at the core of all solid financial plans.
Rich is a State of Mind looks at the basics of financial planning and insurance for Canadians through the eyes of a slightly dysfunctional family, examining 13 months in the life of Richard Jarvis - moderately eccentric, financially savvy, and wanting to connect with his family in a way he never has before. You'll answer many important questions, including:
What does rich mean to me? Is it all about money?
Do I really need goals? Won't the future take care of itself?
Can I actually have a life while I plan for the future?
What are the components of a solid financial game plan?
Rich is a State of Mind provides encouragement for Canadians to understand the basics of personal financial planning in an engaging, easy-to-understand story. It's a novel that teaches lessons about personal finances and life.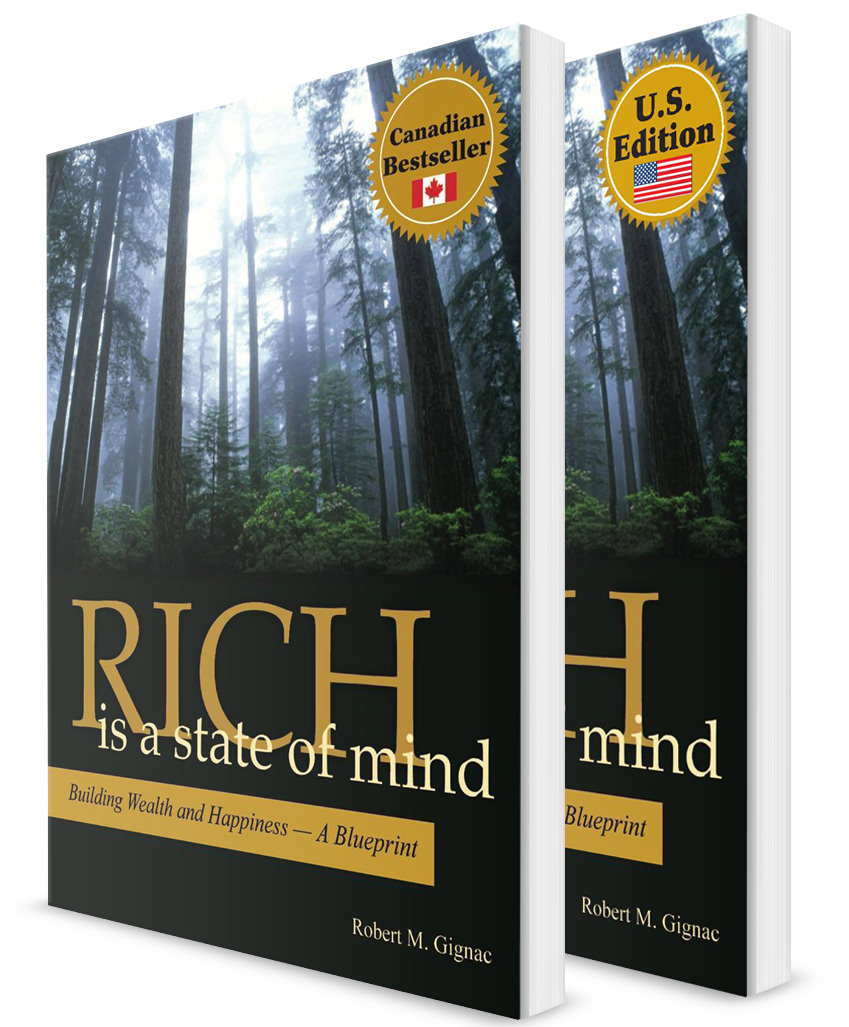 The "story" format makes this an engaging read -- not your typical "how-to" financial book. Turns an otherwise onerous subject (planning and arranging one's financial affairs) into an appealing and understandable activity, using crystal clear, down-to-earth explanations. Suitable for all, from the "I know nothing's" to the financially "well-educated". Well done Robert!
Rich is a State of Mind is a well-rounded exegesis of proven financial planning principles that, when applied, will get you a long way to accomplishing your short-, medium- and long-term goals. What makes this book particularly attractive is the way the authors have humanized the material.
While many chapters outline basic financial concepts, from risk management to wills, a considerable amount of space is dedicated to work-life balance, quality of life, and personal motivation issues. It's these concepts that set the book apart from others in this genre.
This book teaches, not preaches, about the beauty of combining dreaming and planning. It teaches about personal evolution, changing life circumstances and the practicality of financial planning. In short, it teaches you how to not just plan your finances; it teaches you to live your life.
This book will succeed in getting younger clients thinking about their financial goals and what they must do to reach them. It also shows how families can have discussions about money with their offspring in a conversational and non-threatening manner. This book would be a must-read for your clients' children as a way to educate them about financial planning and goal setting.
If I can learn to understand compound interest, RRSPs, and seeing the parallels between financial planning and a hockey game - another subject I know nothing about - almost any reader can. And probably many potential readers should.
An engaging and easy-going look at planning one's financial future. It combines information, strategy, philosophy and a touch of soul. I highly recommend it.
... a clever and entertaining read that will instil basic financial knowledge.
This has been a wonderful education … a must read for anyone who does not have a sound investment program.